With Amadeus' Karin Dodson and David Wakeling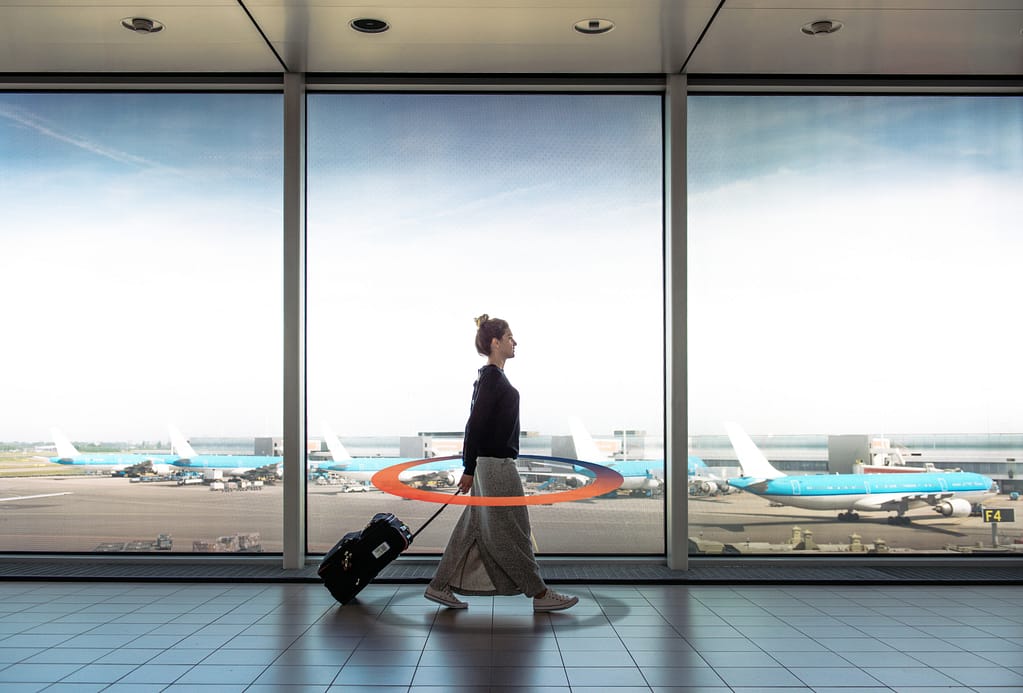 During 2021 Amadeus started its partnership with BAGTAG, making electronic bag tags an easily attainable solution for all of Amadeus' airline customers. Thanks to the partnership between Amadeus and BAGTAG, any Amadeus airline can now start servicing electronic bag tags in a matter of weeks.
The transition for airlines from paper luggage labels to electronic tags seems like a complex step and the how and why behind this cooperation gives useful insights into the product itself, and how the partnership complements the Amadeus solutions portfolio.
We asked Karin Dodson, Head of Amadeus Partner Network, and David Wakeling, BAGTAG Partner Manager, both closely involved with the project, to share their perspectives.
Why did Amadeus decide to include electronic bag tags in their portfolio?
Karin: We don't only look for the next best technological developments for our airline customers, but any solution or product we provide needs to be truly future-proof. When the pandemic started, we had a lot of airlines asking us about innovative solutions that could help them navigate through the pandemic, and electronic bag tags are a solution that can make a high impact.
Even before COVID-19, touchless travel was in high demand; waiting in line to check-in baggage is no one's idea of a good time. But due to recent events, touchless travel has become even more relevant, going from a luxury to an essential service for many that are looking to fly now.
David: Exactly, BAGTAG's electronic bag tags are a permanent solution that passengers can use again and again. They give passengers full, easy-to-handle, and paperless control over their baggage check-in process, replacing traditional paper luggage tags. There is no longer a need to obtain a luggage tag at the airport, so passengers can check in anywhere, anytime, taking the entire process off-airport and saving passengers' valuable time.
"BAGTAG is fully integrated with Altéa, meaning that accessing the BAGTAG Software connection is a matter of a simple configuration and can be done quickly."

– Karin Dodson, Head of Amadeus Partner Network
Why did BAGTAG seem like the right decision for an EBT provider for your airline customers?
David: BAGTAG ensures full interoperability across all connected airlines so passengers can rely on a consistent and straightforward user experience. It is the only company offering a multi-supplier approach, with the ability to connect EBT hardware from any other manufacturer to provide more flexibility to airlines and their passengers.
Karin: Indeed, this was very important to us as we want our airline customers not just to have a solution for today, but one that is ready for any changes during the upcoming decades and is as flexible as the industry needs to be at the moment.
How does Amadeus support airlines with the electronic bag tag solution then?
Karin: Given our extensive portfolio of solutions, it is important for us that we keep things straightforward for our airline customers. BAGTAG is fully integrated with Altéa, meaning that accessing the BAGTAG Software connection is a rapid and straightforward process and can be done quickly
The onboarding process for BAGTAG existed of high-quality integration development and went through many test phases before moving towards offering this new way of baggage check-in for Altéa users, so we are very confident about the solution. We see a bright future ahead for electronic bag tags, and we look forward to seeing our airline customers' passengers using them.