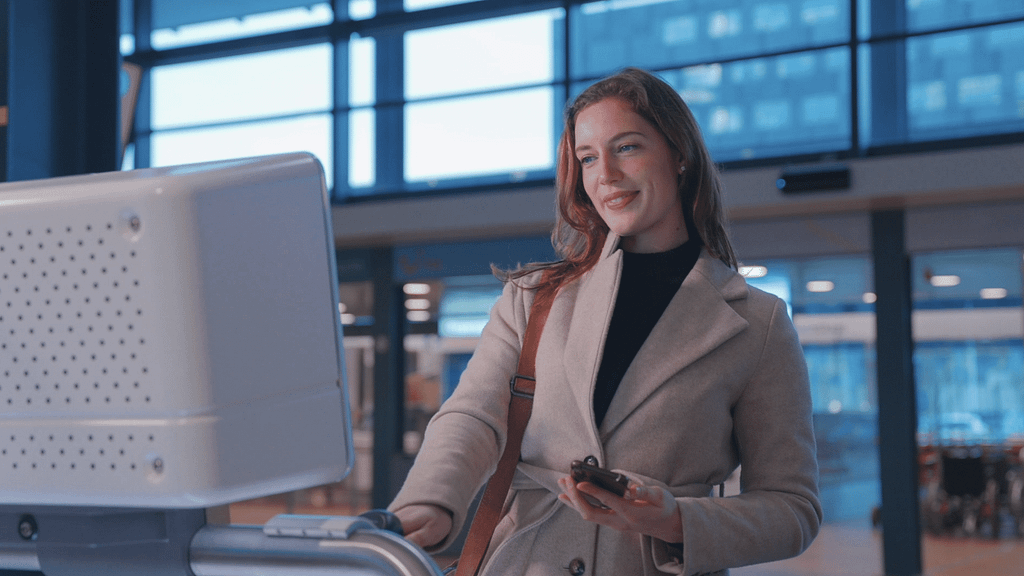 Sometimes you just "gotta to do what you gotta do", so we headed down to Schiphol, not to catch a flight to our favourite destination, but to see exactly how the infamous baggage bottlenecks at Schiphol Airport develop themselves. And how a pre-checked-in suitcase can contribute to saving time for both passengers and staff.
After all, for years we've been telling airlines and passengers that BAGTAG has the solution at hand, ready to implement within operations. Now that those operations are under a greater deal of stress than ever, this is the right time for a real-life run-through to prove it once more. How does BAGTAG hold up in the middle of the check-in chaos?
Stopwatch in hand, we measured check-ins for at least one hour at all of the available check-in options: one-step, two-step and the check-in desk. These are our findings.
Before we go into further detail, it is important to note that we simply chose Schiphol Airport because it is close to our HQ. Schiphol is a great hub and being Dutch, we are proud to call it "ours". But, at the moment, every airport and airline is experiencing staff shortage as a result of the pandemic, causing baggage & security issues at every hub and station that has a good amount of passengers coming through. This article purely focuses on easy-to-implement solutions that can relieve stress for staff, airlines and passengers.
How chaotic is it?
Pretty chaotic, when we arrived at 12:30 on a Monday, baggage check-in lines were barely fitting the terminals and started almost directly at the entrance. The snake of passengers seemed to have made peace with their faith – unless you somehow managed to miss the news the past months you cannot really be surprised anymore either.
Baggage check-in: the measurements
We measured check-ins for a minimum of one hour per station. See the table for an overview of the average times measured.
At Schiphol Airport there are three different methods to check in baggage:
1. One-step check-in. With this system, passengers place their baggage in a machine and type in their personal & flight information after which the baggage is automatically handled.
2. Two-step check-in. The passengers prints their baggage label with one machine and then drop it off at another.

3. Check-in desk. The manned counters.


One-step check-in: drop-off
At these specific drop-off machines, you scan your boarding pass, then print your label, label your baggage, and place the labelled baggage in the machine, after which – in case the weight is within allowance – you are good to go.
First of all, whereas the self-service check-in area is obviously designed to help lines clear faster by having passengers checking in and labelling themselves, they are running into issues doing so. Even though the labels aren't that hard to print and stick on, given the current situation it seems that the pressure is a bit all too high to take the time to do it well, and the personnel is busy handling the errors caused by it. Either the passengers need more education on labelling themselves, or, they can sort out the labelling altogether in the calm and comfort of their homes as they label their suitcases through an electronic bag tag. Arriving at the machine ready to simply drop off we can bring down the time for check-in with BAGTAG significantly at this drop-off.
Two-step check-in: print + drop-off
These smaller check-in machines are meant to check in passengers and provide them with a label before they head to the dropoff area.
The separated print & drop-off caused more issues with an error rate of 64%, from which four passengers gave up completely, without asking/getting any assistance. This area did have the lowest staff-to-machine rate, so there might be something to say for them given the staff shortage issues, but we'll get to that later on. Especially when looking at this check-in method, it is very easy to see where BAGTAG makes all the difference. Because the labelling procedure and the drop-off procedure are separated, we can take the printing/labelling time as time saved when using BAGTAG: this is exactly the part that we take off-airport and into the hands of the passengers. Saving 2.57 minutes per check-in.
Check-in desk
The manned counters see an average of 03:37 minutes per check-in. Whereas that is faster than the two-step check-in, it also occupies the most employees. There is 1 person for each of the 5 desks, and 3 people walking around the area to guide the check-in lines.
The first steps of introducing BAGTAG will not magically make the lines go away, but it will certainly instantly help improve the use of the infrastructure there already is. This will of course vary per airport to what extent, but for example at Frankfurt airport where there is a dedicated drop-off for pre- tagged baggage, we can bring down the time to check-in with BAGTAG to under 20 seconds.
Start saving on check-in
By having passengers check in their baggage in the comfort of their hotel, home or anywhere they like, we take the entire process of baggage check-in out of the hands of the ground staff, and into the hands of the passengers.
Think about that 64% error rate, or that 47% assistance needed – these can be brought down to nearly zero, for the part of baggage labelling. The risk that is left is that a passenger mislabels the electronic bag tag when they are off-airport, which would be possible if they move their phone during an update. However, the application is designed so that relabelling can be done easily, and passengers can resolve the error themselves instead of needing assistance.
Implementing electronic bag tags into any operation is a matter of connecting to the BAGTAG software, and airlines can start saving precious minutes on check-in right away, relieving both ground personnel and travellers.
Staff shortage
The biggest problem airports are currently facing is staff shortage. The many layoffs during and the sudden surge in travel after the pandemic took their toll and are causing serious bottlenecks in the passenger journey.
Looking at the staff per desk ratios you might think there is less impact we can make right away for the manned counters. Even though an already checked-in suitcase will help save some time there, it is not significantly reducing pressure on the check-in staff in terms of staff/desk ratio..
right? The two-step, however, shows us how much there is to improve with the right infrastructure and how employees that are now with the printers, can be allocated to other areas such as the check-in desks.