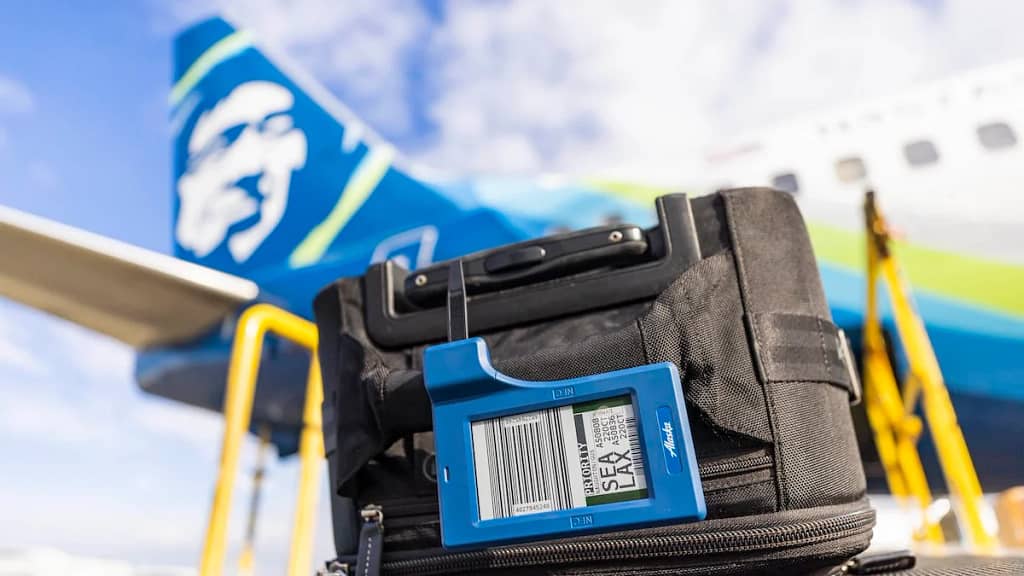 "The electronic bag tags actually create room for that one-on-one time which reflects our vision around personalized customer service."

Charu is a proven technology leader who integrated hundreds of systems within her 25+ year career. As Alaska Airlines' Senior Vice President of Merchandising and Innovation, she's directly involved with the BAGTAG implementation project

Electronic bag tags allow travelers to check in their baggage remotely, through the airline application. With electronic bag tags, travelers can scan their tag at a self-service kiosk or drop-off point, and then proceed to their gate without waiting in line to check in their bags.
Alaska Airlines, in partnership with BAGTAG, is the first U.S. carrier to introduce electronic bag tags, and they have been well-received by travelers who appreciate the convenience and time-saving aspects of this technology.
Having sent out their first batch of Alaska Airlines BAGTAGs just before the holidays of '22, it's time to look back at the implementation process as well as a glance at the future of electronic baggage check-in with Alaska Airlines.
What motivated Alaska Airlines to start digitalizing the baggage labeling process?
Charu: Our goal is to modernize travel at every major city we fly, from reimagining the lobby to testing innovative technology that streamlines the airport experience. We've looked at many possible solutions that help us do so and the replacement of the paper labels in combination with the self-drop systems was the next logical step. The electronic bag tag is estimated to reduce the time guests spend in airport lobbies by about 40%.
What do you believe are the main benefits for your guests using BAGTAG?
I think for many guests the first answer would be speed – no one likes to stand in line and the quickest way to the gate is often the preferred way. However, what's of great importance to us is that by resolving queues and saving time for those guests who like to speed through the lobby, we free up space and time for those who require or want extra assistance. The electronic bag tags actually create room for that one-on-one time which reflects our vision around personalized customer service.
Being the first U.S. airline to launch the concept all eyes are on you – how has this been?
Alaska Airlines always tries to be at the forefront when it comes to guest experience innovation. You're going to have to take certain leaps if you want to keep up with the needs of your passengers. What really gave us the reassurance we were going in the right direction was the PopSci recognition and of course the positive response of our guests. When we put out the first news we were going to distribute 2.500 BAGTAGs amongst our frequent flyers, the participation list was full in no time.
How is the rollout going so far?
As is the case with introducing any new technology, it can be challenging to get the whole operation instructed from check-in agents to baggage handlers. However, as the tags are fully backward compatible, we didn't have to make any changes to the actual operations or machinery which made this a fairly smooth process. Together with our service team ready to help with any questions or issues means that so far all has been going to plan. We're very pleased with the results to date and are looking to the next phases of the project.
What are your future plans regarding electronic bag tags?
It's definitely something we are looking to further evolve and over the next few months we will continuously learn and adapt from the guests currently flying with Alaska Airlines BAGTAGs out there. This phase really is about optimizing usage for our guests and from that point on we will further expand within operations and make electronic baggage check-in available to everyone. We are very excited about the future and are looking forward to the days when electronic baggage check-in is the new normal.