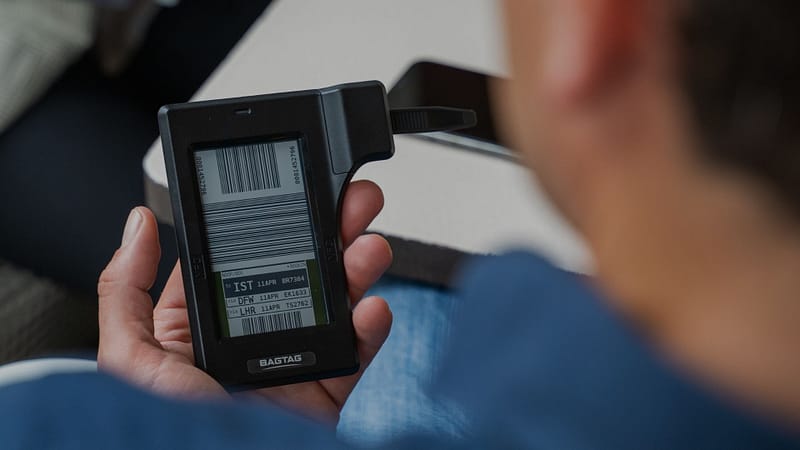 Pioneer in baggage technology BAGTAG has launched its first hardware solution in 2018 with the Lufthansa Group and is now leading the market for Electronic Bag Tags.
After the success of the BAGTAG Fix, the company now launches a new hardware product in the form of the BAGTAG Flex. This next-gen Electronic Bag Tag is completely batteryless due to NFC technology and the flexible wrap tie system allows the BAGTAG to be flexibly interchanged between luggage.
Less stress, more safety
The batteryless BAGTAG Flex connects seamlessly with any iOS and Android smartphone in order to create the e-paper ticket directly via the airline or the BAGTAG application. The digital baggage label is then touchless and safely updated using near field communication technology.
The entire check-in process can be shortened in a time-saving manner and completed from home, hotel or anywhere the passenger likes. BAGTAG thus avoids unnecessary waiting times as well as points of contact with other travelers at the airport and check-in counter for more health safety.
For airline operations, this translates to fewer check-in desks and staff needed, optimised passenger flow and significant time savings in the passenger journey.
Passengers are pleased to take control over their own journey and seeing baggage handling digitalised. Reducing the need for paper, introducing BAGTAG also has environmental benefits. Moreover, due to the better readability of the electronic labels vs. paper labels, the BAGTAG airline partners see less lost luggage.
BAGTAG Flex for airlines
The BAGTAG Flex is also available for airline partners. It's designed to be the most cost-effective product available today, resulting in highly competitive industry pricing to resellers and airlines.
The new hardware is also fully customisable in colour and branding, and the first airline-branded BAGTAG Flex will be introduced before the end of 2021.